While "cheap" isn't commonly used in conjunction with Beaver Creek, Beaver Creek Travel offers insider tips on how to get the most bang for your buck at this illustrious mountain resort. For instance, did you know that your Beaver Creek lift ticket is valid at nearby Vail? You get two resorts for the price of one! Another insider tip is that dining in the town of Avon, the town at the base of the mountain, is often more affordable. Plus, many Beaver Creek condos are equipped with full kitchens, so you can save money by preparing meals for yourself rather than dining out. Beaver Creek Travel offers lodging deals both in the town of Avon and in Beaver Creek resort's three villages, as well as great rates on lift tickets, off-mountain activities, ski and snowboard rentals, flights and more.
Top Beaver Creek budget-friendly ski accommodations
If you want to stay in one of Beaver Creek's three mountain villages on a budget, your best bet is to share a condo with a group of friends or family. Another option is to stay in the town of Avon, which is typically more affordable, and situated just below Beaver Creek. Here are some of the top lodging values in Beaver Creek and Avon:
Charter at Beaver Creek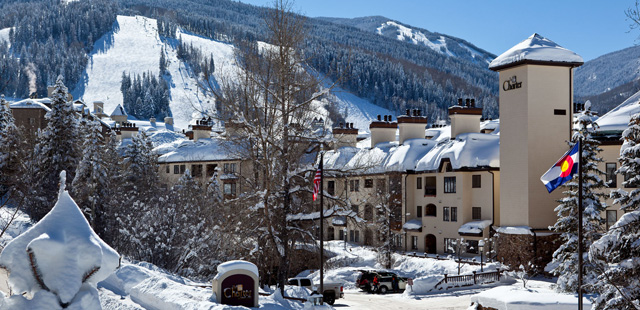 Among the best values in Beaver Creek Village is the
Charter at Beaver Creek
, which offers options ranging from hotel rooms up to five-bedroom condos, so you can get exactly what you need and not pay for more than you need. Essentials like ensuite baths and fully equipped kitchens make it a convenient and comfortable place to stay. Plus, there are indoor and outdoor swimming pools, as well as an outdoor hot tub, game room and health club, perfect for unwinding after a day on the slopes or getting some exercise in during your vacation.
Westin Riverfront Resort and Spa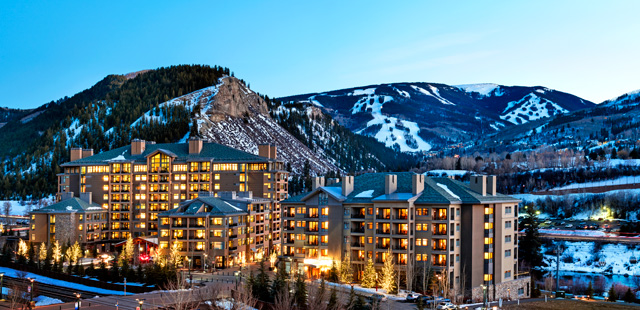 Another high-value option is the
Westin Riverfront Resort and Spa
in Avon, which is crowned by two gems: the 27,000-square-foot Spa Anjali, and Maya, its signature restaurant. To get to the slopes, guests simply hop on the Riverfront Express Gondola, which is located onsite and takes you directly to the bottom of the Lower Beaver Creek Mountain Express lift in Bachelor Gulch village. When you return to the hotel, simply use the ski valet for the ultimate convenience. The Westin Riverfront Resort and Spa is especially kid-friendly, making it a great home away from home for families.
Beaver Creek budget-friendly dining
While Beaver Creek is lauded for its gourmet dining options, both the resort and the town of Avon offer quick, casual and affordable fare. Here is our guide to affordable dining during your Beaver Creek ski vacation:
Most ski vacationers crave one of two things: a delicious burger or cheesy pizza. For the former, head to Larkburger for truffle and parmesan fries alongside a burger. For the latter, Gondola Pizza, Bar and Grill in Avon has pies and salad. Check out the lunch buffet to fill up on hearty pizza and healthy veggies without breaking the bank.
For a sweet on-mountain snack, head to the new Candy Cabin at the top of Strawberry Park Express lift and Upper Beaver Creek Express lift. The bulk candy selection is a hit with kids and adults alike.
Affordable on-mountain dining can be found at 7, a restaurant offering take-away food and quick bites in Bachelor Gulch at Beaver Creek Market, a deli offering groceries, bakery items, take-away food and beer in St. James Place.
Head to Maya for Mexican fare at the Westin Riverfront Resort and Spa in Avon, where you can select from four styles of guacamole and enjoy a plate of tacos for $15, soups and salads for less than that, and an array of affordable, tasty starters, like chile rellenos. Many entrees at Maya are priced around $25, and are hearty and filling.
Northside Coffee and Kitchen serves breakfast burritos, croissant breakfast sandwiches, donuts and gluten-free options in Avon.
Guests looking for a great value on high-quality food ought to pay a visit to Blue Plate in Avon, where they serve reasonably priced European-style food, such as fondue and authentic wiener schnitzel, as well as healthy salads.
Affordable Beaver Creek winter activities
To get the most out of your Beaver Creek lift ticket, consider spending some time at the neighboring resort of Vail, where you can explore the resort's expansive terrain without spending a dime. All together, you can experience more than 7,000 acres of skiable terrain at Beaver Creek and Vail.
If you really want to get to know Beaver Creek, join the complimentary two-hour mountain tour of the resort – it's perfectly suited for intermediate to advanced skiers and snowboarders. If you want to get some exercise indoors, check out the Avon Recreation Center, where you can get a cheap day pass and enjoy the swimming pool, yoga classes, fitness facilities and more.
Other affordable activities include Nordic skiing and snowshoeing at McCoy Park, ice skating at Nottingham Lake and snow tubing at Beaver Creek's multi-lane tubing hill.