Boasting terrain with nearly 20 percent green circle-rated, Beaver Creek beginner terrain is bounteous. The beginner skiing at Beaver Creek ranges from designated "learn-to-ski" zones with easy-to-ride magic carpets, and even a designated gondola, to gently sloping trails with great views. As a first-timer, safety is probably high on your list when planning a ski vacation, so you can rest assured knowing Beaver Creek was awarded National Ski Area Association's Best Overall Safety Awards. There are few ski resorts that can offer a comparable beginner-skiing experience.
Beaver Creek Ski School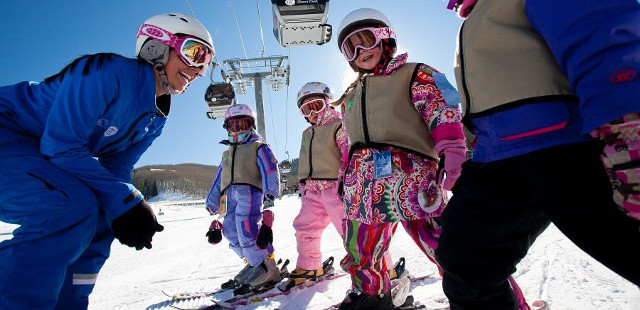 Beaver Creek Ski School comes highly recommended for any level of skier, but their program for first-time skiers is standout. The Beaver Creek Ski School instructors utilize video analysis to help beginner skiers' progress in a quick, holistic manner. Those who opt for private lessons get to keep the DVD of their lesson for review, so they can come back next year ready to tackle a new skill or more difficult terrain.
The main "learn-to-ski" zone located just above the Beaver Creek Village, where newbies can practice riding the chairlift on Highlands Express Lift. If the weather is ever unseasonably cold—which it rarely is in Colorado—beginner skiers can hop onto the Buckaroo Express Gondola to warm up.
Top Beaver Creek beginner trails
The most favorable Beaver Creek beginner terrain is located at Bachelor Gulch, the ridge to far looker's left from the main base area. The beginner area off the Arrowhead Mountain's Arrow Bahn Express Lift—to skier's left— features some great beginner trails, too. The beauty of Beaver Creek beginner terrain is that skiers aren't stuck at the bottom of the mountain. Beginner skiers can take Drink of Water Chairlift to the top of the mountain and enjoy perfect beginner ski trails, like Red Buffalo and Booth Gardens, with a spectacular Rocky Mountain views. For laid-back, meandering trails, check out Dally and Intertwine, too.